International Projects
Utilizing instrumentation technology and energy-saving expertise developed in Japan, we offer services in the environmental field, mainly in South-East Asia. While collaborating and cooperating with manufacturers, universities and ministries at home and abroad, we conduct environmental projects using government subsidies, energy-saving consultancy projects and sales support for overseas subsidiary.
JCM Model Projects
The Ministry of the Environment (MOE), Japan has been implementing Financing Programme for the Joint Crediting Mechanism (JCM) Model Projects , which provides financial supports covering up to half of the initial investment costs. The purpose of this model projects is to financially support the implementation of projects which reduce GHG emissions by utilizing leading decarbonizing technologies in developing countries, and in return, to acquire JCM credits for achievement of Japan's GHG emission reduction and the partner countries' emission reduction target.
As the representative entity of the JCM Model Projects, we are in charge of case building, project application to MOE, project progress management, reporting to MOE, and financial support application procedures, etc. After the completion of the JCM Model Project, we are involved in work related to the issuance of JCM credits.
---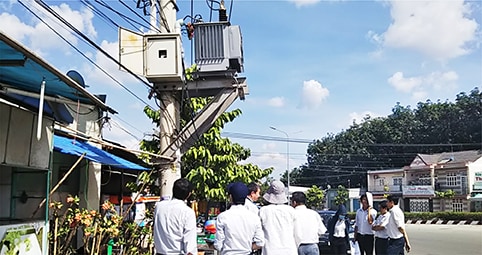 Introduction of Amorphous
High Efficiency Transformers in Power Grid
Partner participants (Equipment installer):
EVN SPC, EVN HCMC, EVN CPC, Danang PC, EVN Hanoi, Khanh Hoa PC, Dong Nai PC Electricite Du Laos
This project introduces amorphous high efficiency transformers in power grid, replacing the silicon steel core transformers, and reduces power losses related to power distribution (no-load losses in distribution transformers) as well as greenhouse gas emissions from power generation.
Four projects have been implemented with seven power companies in Vietnam, with a total of 11,853 amorphous high efficiency transformers installed across the country.
In addition, two projects to install amorphous high efficiency transformers have been implemented in Laos.
---

Energy Saving in Factories with Air-Conditioning Control System
Partner participants (Equipment installer):
NIDEC VIETNAM Co., NIDEC PRECISION VIETNAM Co., NIDEC ADVANCED MOTOR (VIETNAM) Co., NIDEC POWERTRAIN SYSTEMS (VIETNAM) Co., LTD, NIDEC INSTRUMENTS (VIETNAM) Co.
This project introduces "Air conditioning control system" to air conditioners in six component factories in Ho Chi Minh City, Vietnam. The system constantly monitors operation status of the compressor equipped in the air conditioner outdoor unit by measuring an electric current at the optimum programmed timing to reduce energy consumption and greenhouse gas emissions.
---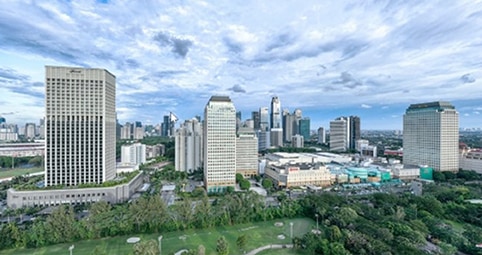 Installation of Energy Saving Equipment and Solar Power System to Complex Building in Jakarta
Partner participants (Equipment installer):
PT SENAYAN TRIKARYA SEMPANA
This project introduces high-efficiency chillers and air conditioners, as well as a PV system in Senayan Square complex in Jakarta, Indonesia, developed and operated by KAJIMA CORPORATION, to reduce greenhouse gas emissions. It also aims to contribute to sustainable development in the country by presenting a "long-life model project" for urban development that reduces the environmental impact of the building life cycle through the introduction of advanced technologies with low environmental impact.