Message
We at Yuko-Keiso solve our clients' problems for tomorrow with reliable control and advanced information technologies.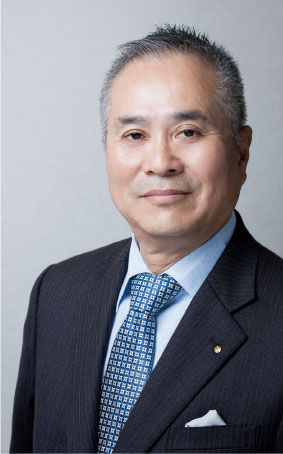 Founded in 1963, we have been designing, installing, and maintaining automated control systems for electrical systems, air conditioning, and security systems chiefly in office buildings. Our engineers have a strong work ethic that has earned the trust of our many clients. We believe that our success comes from a deep understanding of our clients' professional needs and, through our instrumentation, our ability to make their clients and customers happy.
  We are confident that we can realize significant energy-saving measures with the know-how and advanced technologies that we have developed through our work on all kinds of building control systems. In fact, as of 2012 we have put these measures into effect via our participation in the JCM Model Projects in Vietnam.
  We have unique technologies that we have developed in the markets that we have cultivated over the years. Applying those technologies to compete in different fields and against different companies, we have leveraged the technologies we have spent years perfecting, and as a result, we have been successful in planting seeds in new markets.
  We will continue to work hard with speed and flexibility to create environments that optimally meet our clients' needs, combining the latest technologies with our wealth of knowledge and experience.
Ryuzo Ota
Representative Director,
Yuko-Keiso Co.,Ltd.
Corporate
Principle
Creating optimum environments that are beneficial to people, society, and the natural environment
Corporate mission
With abundant creativity and cutting-edge technologies, we give back to society by creating optimum environments that are beneficial to people, society, and the natural environment.
Management attitude 
We take prompt action as a team to respond to the changing needs of our clients.
We place a high priority on safety and up-to-date technologies, and through tireless effort
and technological innovation, we offer our clients products of the highest quality.
As part of our efforts to maintain client trust, we also place much emphasis on compliance.
We strive to build a strong business foundation and a company that is attractive to clients, shareholders,  and employees.
We strive to be a profitable company full of vitality and growth in which all employees feel a sense of reward and pride.
Company
Milestones
| | |
| --- | --- |
| 1963 Dec | Yuko-Keiso established at 1-38 Yoyogi, Shibuya, Tokyo |
| 1967 Jul | Company head office relocated to 1-46-10 Tomigaya, Shibuya, with relocation of company building |
| 1973 Dec | Company head office relocated to 5-11-9 Yoyogi, Shibuya, with relocation of company building  Yamatake Honeywell (Current Azbil Corporation) Distributor |
| 1982 Jun | Opened Oyama Sales Office in Oyama City, Tochigi (Current Tochigi Sales Office) |
| 1985 May | Opened Saitama Sales Office in Omiya City, Saitama |
| 1988 Aug | Opened Yokohama Sales Office in the Kanagawa District of Yokohama City, Kanagawa |
| 1989 Jun | Oyama sales office renamed Tochigi sales office upon office relocation (Kawachi county, Tochigi) |
| 2000 Nov | Company head office relocated to 2-8-8 Chuo, Meguro, Tokyo with purchase of new company building (Current company head office) |
| 2007 Oct | Certified as a CO2-reducing SMEs by the Ministry of Economy, Trade and Industry |
| 2009 Mar | Established Office of Registered Architect First Class |
| 2012 July | Established Yuko-Vietnam in Hanoi, Vietnam |
| 2013 Dec | 50th anniversary of establishment |